BY CSMI STAFF WRITER
While there isn't an official international standard of rating that lets a hotel earn a 7 star category or tag, the benchmarking is usually done on the basis of the levels of luxury, comfort and hospitality offered by the property, and the overall experience that can be defined as nothing short of a grandiose.
The term "7-star hotel" was coined by a journalist who attended the opening of the Burj Al Arab in Dubai and felt the standard was far higher than the regular five stars hotels.
A 5-star hotel is generally chosen for business stays and leisure stays. While a 7-star hotel is mostly chosen for leisure stays.
A 5-star hotel gives you a luxurious treatment while a 7-star hotel gives you a royal treatment.
A 5-star hotel is could be frequented by people from all walks of life. While a 7-star hotel will have the royalty, heads of states, country ambassadors, delegates and billionaires on their guest list.
Nestled 2,000 feet above the city of Hyderabad, Taj Falaknuma Palace epitomises royalty and grandeur. Guests are escorted to the palace of the Nizam spread over 32 acres on horse-drawn carriages.
Undoubtedly, Taj Falaknuma Palace makes its place among the most noted 7-star hotels in India and abroad with its world-class appeal, facilities, service and so on.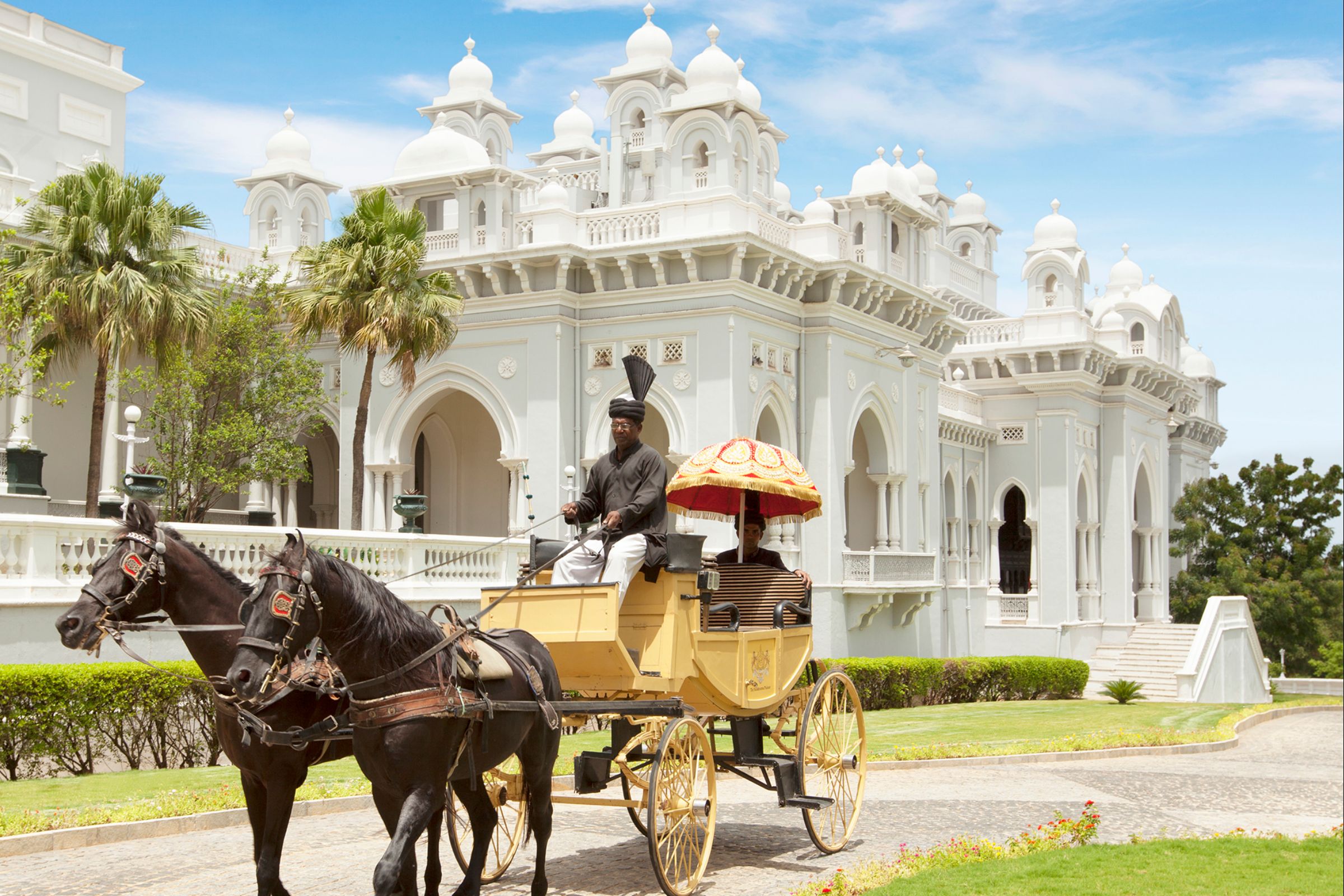 Features at a glance:
60 rooms and suites-elegantly refurbished and restored.
The Jade Room, Durbar Hall and dining hall facilitate 101 diners.
The pristine gardens and terraces lend royal decadence to signature events and business meetings.
Spa sessions are complemented with a wellness menu using Ayurvedic cooking.
What people love:
Whether you are a bookworm or not, do check out its library featuring a rare collection of books. Also, enjoy the live Qawwali performances in the evenings.
How to reach:
Hyderabad is one of the major Indian cities well connected with flights from most cities across the world.
Price range:
Palace room starts from 32,000/- per night and there are Nizam Suites available for INR 6, 00,000/- per night.
Must try:
Relish palatial delicacies at the beautifully decorated restaurants.
Explore Indian fine-dining restaurant at Adaa, savour multi-cuisine at Celeste.
Spend the afternoon sipping on tea at the Jade Terrace or opt for private dinners at South East Garden & Jade Terrace.
Cherish a unique dining experience at Gol Bungalow.
Best season to stay there:
October to February is the ideal time to visit the palace.